A very lebu-ish scenery with a beach, simb performers and a beautiful sunset, TONGORO promised that they were coming HOME and they absolutely did!
The TONGOROLAND campaign is like a homecoming beach party with jinns dancing and welcoming the clothes with the sound of the waves while the models are proudly walking on the black runway. #thatfeelingwhenyoureatongoromuse
With this new collection, Sarah Diouf, founder & designer of TONGORO reaffirmed one more time her point of view about womenswear: wide cuts, effortless garments and prints galore.
Here are the looks that stole the show:
The bubble gum cold shouldered jumpsuit
Seems like a reach but this jumpsuit might be an ode to breast cancer awareness and survivors. For a whole minute, the campaign was only about this look with the model (Amy Faye) standing strong and undefeated. This is also what the TONGORO woman represents to us: she's not wearing a power suit yet she still looks very fierce and powerful in soft and feminine materials.
The white cutout dress with hanging sleeves
The runway really starts with this white dress and everything we can think about is how divine and godly the movement is. One thing about Sarah Diouf is that she clearly knows how to sell her clothes and starting with a white look then adding prints and different elements to every other look really tells us a story about evolving.
The square neckline jumpsuit with exaggerated angel sleeves
Speaking of evolving, this is a silhouette that we're not used to see from TONGORO. It's very similar to the OSHE set with the balloon sleeves however she turned it into an elevated jumpsuit with angel sleeves and added more volume to the bodice with a puffy peplum.
The jacket + romper look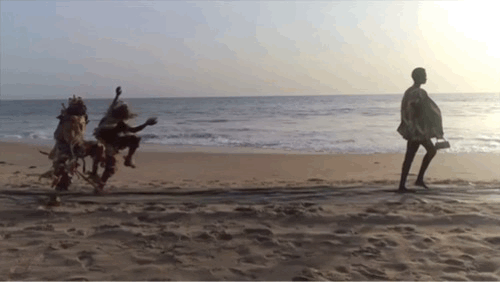 This is not the first look that comes to your mind when you think TONGORO however it is our favorite at TÀCCU. It stands out from the others with the scenery, the tailored jacket and the romper that gives you legs-for-days which is very refreshing and different from having a lot of material from the waist down most of the times.
Overall, the TONGOROLAND collection screams everything that TONGORO is with a couple of new things. Mix it a great campaign like this and it is to-die-for ! Get ready to shop your favorite looks on Nov 7.
Credits : Sarah DIOUF (Creative Direction), Bizenga DA SILVIO (Camera 1), Alioune FAYE (Camera 2) and the models : Amy FAYE, Coumbelle KANE, Mariza SAKHO and Fatou NDIAYE @ ATO MODEL
👏🏿👏🏿👏🏿
(FRENCH)
Une mise en scène qui rappelle un décor Lébou avec une plage, des faux-lions et un magnifique coucher de soleil, TONGORO est de retour avec une toute nouvelle collection.
La campagne TONGOROLAND est comme une cérémonie rituelle à la plage avec des djinns qui dansent et accueillent les vêtements au rythme des vagues pendant que les mannequins marchent fièrement sur la longue étoffe noire. #cesentimentquandtumarchespourtongoro
Avec cette nouvelle collection, Sarah Diouf, créatrice de TONGORO a réaffirmé une fois de plus son point de vue sur la mode féminine : des coupes larges, des vêtements fluides avec des imprimés à gogo.
Voici les looks à retenir :
La combinaison rose à épaules dénudées
C'est peut-être excessif mais cette combinaison pourrait être une ode à la sensibilisation et aux survivants du cancer du sein. Pendant une minute entière, la campagne ne portait que sur ce look avec le modèle (Amy Faye) dans une posture très forte. C'est aussi ce que la femme TONGORO représente pour nous: elle ne porte pas de matières rigides mais elle a toujours l'air très puissante dans des matières douces et féminines.
La robe blanche à longues manches flottantes
Le défilé commence vraiment avec cette robe blanche et tout ce qu'on retient : c'est le mouvement ! Sarah Diouf sait clairement comment vendre ses vêtements et commencer par un look blanc puis ajouter des imprimés et des éléments différents à chaque étape du défilé nous montre une évolution progressive.
La combinaison à encolure carrée
En parlant d'évolution, voici une silhouette que l'on n'a pas l'habitude de voir avec TONGORO. Elle est très similaire au set OSHE avec les manches ballons, cependant, Sarah Diouf l'a transformée en une combinaison avec des manches d'ange et a rajouté plus de volume au corsage avec un basque bouffant.
Le look veste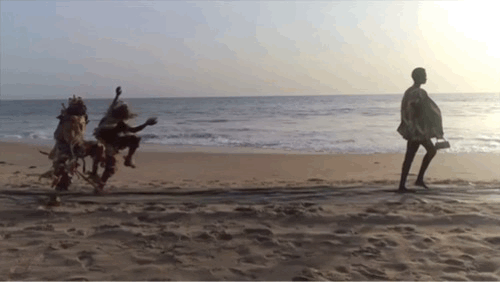 Ce n'est pas le premier look qui vous vient à l'esprit lorsque vous pensez à TONGORO, mais c'est notre préféré à TÀCCU. Il se démarque des autres par la mise en scène avec les faux-lions, la veste sur mesure et la barboteuse qui vous donne une illusion avec de longues jambes, ce qui est très rafraîchissant et qui change d'avoir beaucoup tissus en bas de la taille.
TONGOROLAND représente tout ce que TONGORO est avec quelques nouveautés. Le tout allié d'une belle vidéo de présentation comme celle-ci est à tomber!
Préparez-vous à shopper vos looks préférés le 7 novembre.
👏🏿👏🏿👏🏿